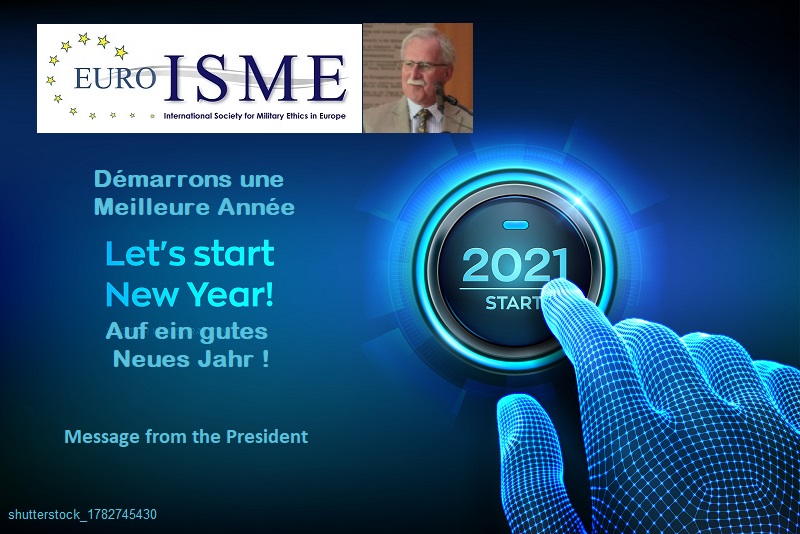 'If you think you are too small to make a difference, try sleeping with a mosquito.'
The Dalai Lama
Dear Members and Friends of Euro-ISME,
2020 was the 'unprecedented' year which 'upended all our expectations'. These simple statements, no matter how many times we might have heard them, continue to summarise a year that was unlike any we have known.
Twelve months ago, knowledge of a virus - unknown to all but a tiny handful of specialist virologists – began to enter the public consciousness. However, so pervasive has the virus been in that short period , that I can safely guarantee that everyone who is reading this message – wherever in the world you might be - has been directly or indirectly touched by its malevolent hand in some way. My fervent hope is that you and those you love have not been seriously affected.
The response to the virus by governments has indeed been unprecedented. Often using the force of law, western liberal democracies have stipulated when and where their citizens can travel, how they can work and socialise and even when they can meet their own families. The reaction of individuals has been no less astonishing. These and other restrictions might in different circumstances have provoked revolutions, not compliance.
At the heart of governments' responses have been profound ethical dilemmas. How to balance lives against livelihoods, mental against economic wellbeing and the health of people against the health of the economy. Of course politics has had to be factored in to the mix, but governments have generally been trying to do the right thing. And as this readership knows better than most, trying to do the right thing is the essence of ethics.
In the face of a global phenomenon such as this pandemic, it human nature to wonder what possible benefit our individual actions might achieve. But as the Dalai Lama made clear, no one is too small to make a difference. Throughout the world, individuals have willingly, even enthusiastically, devoted time, skill and professional expertise to making a difference in whatever way they can. Individually, they may only have impacted a few people, but collectively they have made a huge difference.
Alas, conflict in all its forms has not taken a furlough because of the pandemic. Indeed there are good reasons to anticipate that the inequalities highlighted and exacerbated by Covid-19 will themselves be a cause of future tensions. In our field of military ethics, the important thing is that we all continue to do what we can, whenever we can to make military ethics a mainstream subject and ensure its increasing relevance. Just as work on Covid-19 brought together the best of science and practical healthcare, so we need to continue to work to extract maximum advantage from scientific study and practical experience. It is given to very few people to make a dramatic global difference for good. Not everyone can invent a vaccine that might restore some sort of normality to the world. But all of us can make a difference where and when we can and collectively be a force for good.
Covid-19 has compelled us to think about how we work as an organisation. We have begun a series of webinars and we have a new occasional paper series, all accessible via our updated website. Please do not hesitate to take full advantage of these new initiatives and please let us know your reactions. I earnestly hope that we shall all be able to meet again soon. It is too early to know what the implications for our 2021 conference will be, but we do intend to host a conference in 2021, whether that be in 2 dimensions on screen or in 3 dimensions in person. We will keep you informed.
Thank you for supporting our work at Euro-ISME
and I wish you a happy successful and, above all a healthy 2021.
John Thomas