10th EuroISME Annual Conference
Conference Center of the Federal Minister of Defense
Berlin, Germany
rescheduled for 5-7 May 2021 (planned for 2020, postponed due to COVID-19)
Due to the covid-19 pandemic, EuroISME's conference of May 2020 conference has been re-scheduled to take place from 5-7 May 2021. Given the unpredictability of virus developments, EuroISME will decide at a later stage on the exact format of the conference. We hope that the situation will have improved enough to allow us to hold a physical conference. However, we are aware that an online (or a hybrid physical/online) conference might be unavoidable. We shall decide on which format to adopt nearer the time, when the situation is clearer, not only relating to the virus, but also concerning the impact likely travel restrictions may have.
Nonetheless, EuroISME hereby issues an updated Call for Papers.
The Presidents message explaining the rescheduling of the Berlin Conference 2020
Dear Friends of EuroISME,
Today, the 18th of May 2020, would have been the opening day of our 10th annual conference.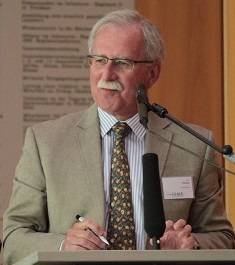 Everyone on the Euro-ISME Board shares my disappointment that we are not able to meet in Berlin as we had planned. The core organising team, Ted van Baarda, Daniel Beaudoin, Magdalena Revue and Ivana Gošić, had already been working hard for some months before we were forced to cancel the conference. Manfred Rosenberger and Thomas Elssner had also played invaluable roles in liaising with the German military and parliamentary authorities.
Everything was in place for what we hoped would be a landmark conference. However, like thousands of other individuals, families, and organisations worldwide, our plans were abruptly and brusquely overturned once the Covid-19 pandemic took hold.
Of course, whatever disappointment we might feel is much less important than your health and wellbeing. Our regret is therefore tempered by the belief that we did the right thing by cancelling our conference, even before the German authorities took a similar decision in terms of all public gatherings.
It is now clear that working practices across the world are changing. For example, there will be more digital communication and less physical travel, more will be taught online and large gatherings will become the exception rather than the norm, at least for the foreseeable future.
With my colleagues, I have been looking at what this might mean for Euro-ISME. Any new online activities will not replace our annual conferences, our book series or thesis prize, but will hopefully respond to the new appetite for more digital interactions.
Our first steps into this new domain will be the online live streaming of the presentation of the 2020 thesis prize, hosted by Spurgeon's College, where the Chairman of the prize jury is principal. This will be on 25 May at 20:00 Paris time and will be freely accessible on YouTube by following this link.
At a later date, a live streamed panel discussion, involving the members of one of the panels from our cancelled conference is also planned; the date and time for this have yet to be finalised. I am very grateful to all those who have volunteered to be our digital pathfinders for these two events
The exponential growth in digital working will offer us new opportunities to network, to exchange ideas and pursue our common aim of promoting the teaching and practice of military ethics. Like other organisations, it will take us a little time to adjust to this new way of working, but we are excited by the potential opportunities it offers.
For the moment, the Covid-19 pandemic has pushed almost all other news to one side and many of us have been temporarily forced to address the organisational and practical aspects of how we work, sometimes at the expense of the content of our work. This phase is likely to be brief, if intense. The worst of the pandemic will pass and life will eventually return to normal, or at least to a life with fewer restrictions.
But – and this is a big but – for many in the world the pandemic will leave in its wake poverty, worry and profound uncertainty. It is unlikely that any country will be completely immune from such negative effects. There is also a risk that these new uncertainties will be exacerbated by the collapse of trade, by famine and by long standing political and armed disputes.
As professionals in the field of military ethics, you do not need me to tell you that these wholly unwelcome negative and sometime life threatening circumstances can all too often precipitate much more serious armed conflicts, making a disastrous situation even worse. The potential implications for governance and security in many countries are likely to be considerable.
In the first 10 years of Euro-ISME's existence we have explored the already very complex nature of armed conflicts. These complexities are unlikely to diminish in the foreseeable future. Whatever success we may have achieved and whatever impact we might have had is due primarily to you, through your participation in our work. And none of this would have been possible without the active financial and other support of the Charles Léopold Mayer Fondation pour le Progès de l'Homme.
The reasoned voice of the ethicist might sometimes struggle to be heard, but it is essential that it is. The same is true of those whose direct experience of combat gives their words special resonance. Euro-iSME's work has had to take a brief and unavoidable pause while we rethink how best to continue to make a difference for the good. But this is most definitely a pause, not a full stop.
I can already tell you that we have agreed with the German authorities to hold our 2021 conference in Berlin, from 5-7 May. We all hope that by then Covid-19 will have been brought under control and that we shall all be able to meet again, to renew friendships, to make new ones and to enjoy the pleasure of seeing each other in 3 dimensions, not just the 2 dimensions which a computer screen can offer.
In these uncertain times, I wish you and those you love a healthy 2020 and I look forward to seeing you in Berlin in 2021.
Yours ever,
John Thomas