Recently discussed : "Peacekeeping in Times of the Pandemic - Ethical and Security Challenges of a New Threat"
In recent history, the world community has seldom been as vulnerable as it is today. A virus that spreads around the world and which has already killed hundreds of thousands of people, and which at the same time severely constrains the economy, the educational and cultural life and affects everyone's everyday life, poses a new challenge for politics and security agencies.
The symposium pursued such and other questions and focused in particular on the ethical challenges that are relevant for military and medical personnel.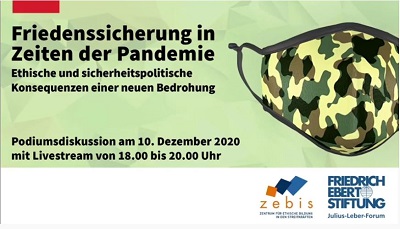 The event was livestreamed from the zebis-website and can be viewed here.