Each year, EuroISME awards a prize for the best European student's thesis (Masters of Arts) on military ethics.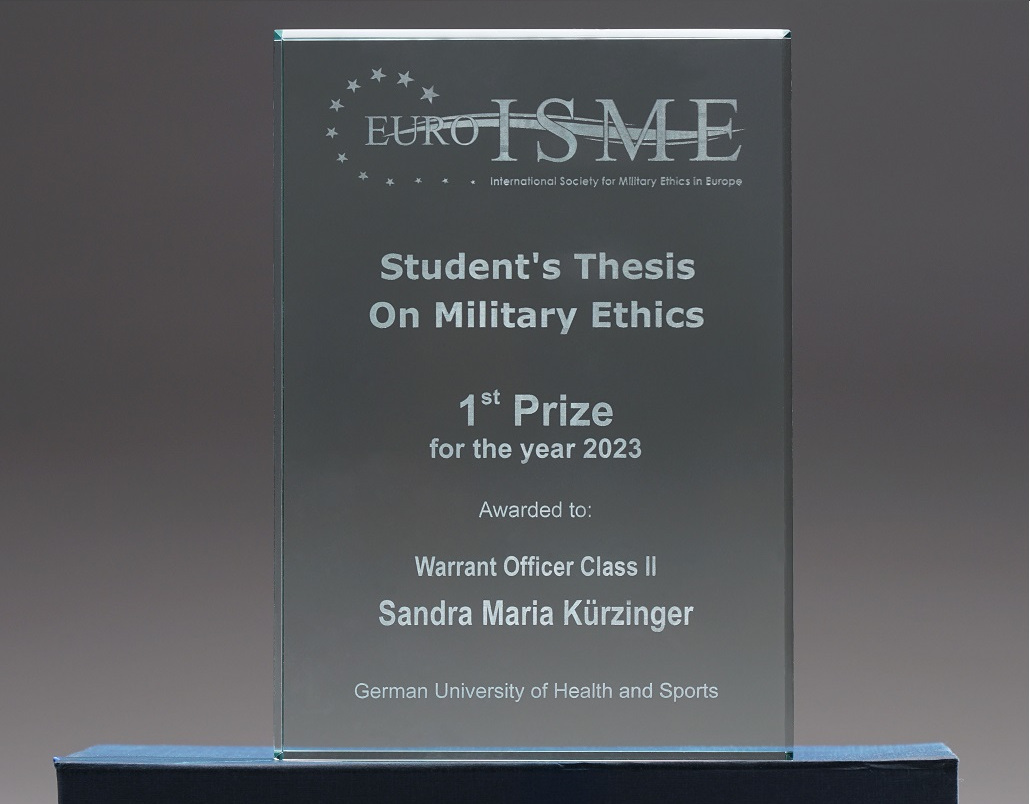 Call for Applications: EuroISME Prize 2024
The competition for the student's prize for 2024 is now open !
Submit your Candidacy now

Deadline for submissions: 30 November 2023
Contact email: This email address is being protected from spambots. You need JavaScript enabled to view it.
---
Establishment and aim
In 2015, Euro-ISME's Board of Directors decided to establish an annual prize for the best thesis on military ethics.
The aims of the prize are:
to promote an active involvement in the study & application of military ethics,human rights and humanitarian law in a pro-active manner, thus promoting a dialogue on common European values;
to promote participation at Euro-ISME annual conferences by military academies and civilian universities;
to promote Euro-ISME as relevant player in the field of military ethics;
to publish the winning theses as a cahier (paper copy) and on line (open access) in two / three European languages.
Target groups
The target groups consists mainly of: European military officers and students who have written their thesis in pursuit of an Academic Master Degree, and discuss the topic of one of Euro-ISME's annual conferences.
In civilian terms, this will be a thesis at the level of an Academic Master. The target group of military officers who write a thesis is pertinent, since it consists of those, who will be Europe's military commanders in the very near future, and who will have to demonstrate honourable behaviour on the battlefield.
We do not formally limit participation to military officers – it may well be that a civilian student may also write an appropriate paper. At this initial stage however, we prioritise the enlistment of European military academies in the prize.
Previous Winners