The latest issue of the Zebis International E-Journal (2021/2) is online.
Between aspiration and reality – Where does Innere Führung stand? Can the familiar model of the "citizen in uniform" still maintain its claim to validity, or is it in need of readjustment or even re-evaluation and change?
In this latest edition of "Ethics and Armed Forces", the zebis aims to delve deeper into the debate. For it has become apparent, following the withdrawal from Afghanistan, that there is a considerable need for discussion not only within the Bundeswehr but also among the wider public about the role of our armed forces and their leadership principles.
"Innere Führung and Military Ethos Under Discussion"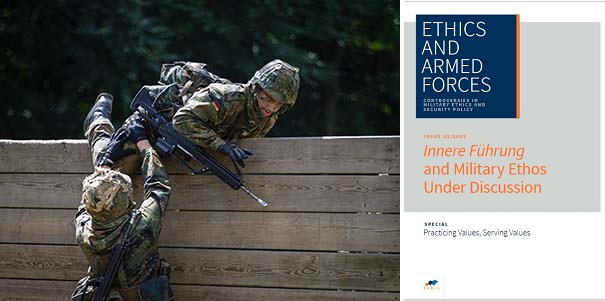 Euro-ISME wants to contribute to the discussion! This is why we make the release of every new edition of the Zebis E-Journal a "EuroISME News Topic". And we call upon our members and friends, not only through Europe but purposefully also across the Atlantic Ocean, to participate in the discussion about the place of the soldier and the role of Armed forces in Peace Building in the 21st century, characterised by increasing multinational integration, diversity and complexity of crises and use of high-technology.
With the newest edition of it's biannual E-Journal, the Hamburg based "Centre for Ethical Education in the Armed Forces", which is one of our Institutional Members, initiates a debate on the very topical issue of modern leadership culture...
Read here the editorial from Dr. Veronika Bock, Director of zebis and further informations about the authors.

We are pleased to open our platform again for your comments on these captivating issues.