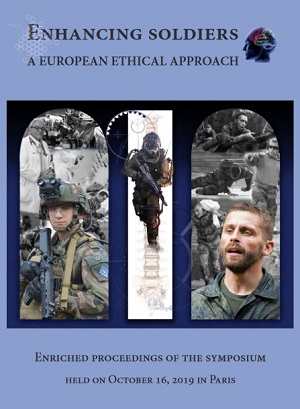 The publication contains the enriched proceedings of a symposium held on October 16th 2019 at the École Militaire in Paris. The symposium was commonly organized by the Research Centre of the French Military Academy of Saint Cyr-Coëtquidan and the International Society for Military Ethics in Europe (Euro-ISME). It brought together contributions from several experts on the ethical issues raised by possible enhancements in soldier performance, particularly in respect of new technologies that have a direct effect on the human body, such as pharmacology, implants and even surgical anthropotechnics.
All these new invasive techniques pose difficult moral problems of both applied ethics – such as: which forms of enhancements are permissible in view of the laws of war – and also fundamental ethics – such as respecting the moral and physical integrity of the soldiers who are being enhanced.
These enhancements are emerging within a new individual-centric social context. This creates a tension between the individual's free will to be able to decide for himself (or herself ), and the requirements to comply with the demands of the military unit to which he belongs. That tensions and paradoxes are replicated at an organisational level, where the armed forces respect the individual but, because of the exceptional nature of the commitment required, ask him to risk his life in the service of the collective good.
This publication aims to situate the question at a European level, in order to take advantage of a collective and inter-European reflection on this revolution in a human-centric technological approach that operates directly on the human body and mind. It establishes a preliminary basis for a European consensus that may emerge, in the long term, on the ethical approach to increasing challenges.